We're so excited to tell you that Geek Divers is live!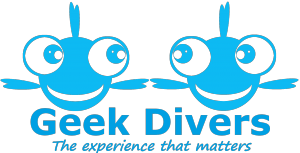 If you own or manage a dive center, Geek Divers is for you!
Geek Divers is an online platform that helps you manage your customers, staff members, rental equipment, activity planning and a lot more! For your customers we will soon release Geek Divers App for Android and iOS: a free app for divers that your customers can use to setup their profile and check-in to your dive center through Geek Divers! How sweet is that? They could virtually check-in days, weeks or months in advance, which gives you time to get to know them before they show up on your doorstep.  Geek Divers App will also provide a lot more features, like a digital logbook (yes, you can send them a dive log!), statistics and a lot more!
In the last few months we've talked to a lot of dive center owners and managers, gathered their good ideas and feedback and translated most of them into features for Geek Divers.
We can't wait to get your feedback! 😀 We're now working on improving the current features and adding more and this is where you could help us.
Below here you can see a few examples of how Geek Divers looks like and our Geek Divers preview video:
Have we sparked your interest?

We're looking for dive centers that would like to invest some time in using our software in their daily business.
Have you ever felt like you were so busy that you couldn't stay on top of things? –> Geek Divers will always show you what's going on!
How many hours/days do you need to calculate salaries? –> Geek Divers does that for you automatically!
How long do you need to collect all the rosters, trip lists and customers' activities to prepare a customer bill, including regular and special discounts? –> Geek Divers does that for you automatically!
How many times did you have to bear the consequences of a human mistake? I mean, we're all humans and these things happen… –> Let us help you set up Geek Divers and it will show you the real numbers!
Do you have an overview of your monthly expenses and revenue? –> you need one click on Geek Divers to see your cash flow and projections on expected costs and revenue!
Do your customers send you a deposit when they make their reservation? –> In Geek Divers you can add the payments directly in their customer page! (We don't take payments on your behalf)
Do you plan the next day on a white board? –> Geek Divers lets you plan days, weeks and months in advance! And there's no risk of accidentally bumping into the white board and wiping off essential info!
Are you afraid to change your well oiled system and switch to Geek Divers? –> Geek Divers is so easy to use that you only need a few seconds to plan your days! You could still run your system and try Geek Divers in parallel to see how you like it. Take advantage of the offer: it's really free!
"My dive center is too small…" –> No dive center is too small! You've taken the leap and started your own business: wouldn't you rather concentrate on giving your customers an excellent service than spending your precious time with spreadsheets?
If you choose to be part of the Geek Divers project, this is what you get:
Your dive center account with 2 administrator user names
Unlimited access 24/7 from anywhere in the world from any device running a Chrome browser
our support to set up your price list and your staff members' commissions or salaries or a combination of both
a short training (1-2 hours) covering all Geek Divers features – Geek Divers is easy to use, you won't need long to learn how to use it!
our support in case you encounter any issue or you have any question
FREE until the end of 2017!!!
Plus some sweet discounts if you would like to go on using Geek Divers next year!
So where's the catch? 😉
No catch! We only ask for your feedback in return. Managing a dive center involves a lot of activities, including people management and administration tasks. We know that every dive center is different. Geek Divers offers a lot of possibilities for personalisation and in case your specific way of handling things is not covered, we would like to hear from you: if it's technically possible, we'll implement the change needed for your business to run on Geek Divers.
Are you in? Or would you like to know more? Send us a message at info@geekdivers.com
We're now taking 5 dive centers per week, so book your time with us and take advantage of this offer!
Coming soon features:
Geek Divers App for Android and iOS, free for divers and dive professionals – more on that soon!
Automatic check-in feature for your customers from Geek Divers App –> no more typos and no more time spent trying to read your customers' handwriting!
upload all the documents and paperwork for every customer
messaging system between Geek Divers and Geek Divers App so that you can keep in touch with your customers and staff in case plans change
Export and import features for your data
More user names for your staff members (they won't see your cash flow or staff compensation)
Notifications based on the next equipment service
Automatic booking system
Not enough? We want to hear from you! info@geekdivers.com