What would you do on a beautiful and sunny day when you wake up on a little island in the Gulf of Thailand?
You go diving, of course! 🙂
If you then happen to be living in a dive resort with an equipment room just a few steps away from your door and the pier a mere 3-minute scooter ride from the resort, everything is much easier.
The boat is loaded, the roll-call is done and off we go to Sail Rock, one of the most beautiful dive sites in the area.
It's warm in Koh Phangan (30°C) and the humidity (more than 70%) can knock you off but on the boat the wind makes you enjoy your "office" for today, the only risk being a sunburn.
Set up your equipment, check that everything works as it should, drink a coffee and you're nearly there.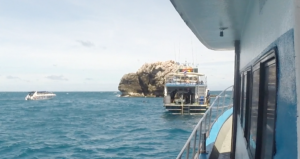 And then you see the rock in the middle of the ocean. Gear up and jump!
On a day with good visibility Sail Rock is mind-blowing: schools of fishes swimming everywhere in tactical formations, colorful corals and sponges, nudibranches by the dozen, crabs and shrimps and if you're lucky a whale shark is there to say hello. What a wonderful place to hang out!
The other day we did our Fish ID training dive, collecting data on a slate to note fishes features and colors, unknown species (to us) and observe the behavior.
Try to count how many Chevron Barracudas pass you by there! 😀 Too many to count, absolutely impossible! With their long silver body and sharp teeth, they seem to fly in a perfectly defined formation, all parallel to one another.
And the batfishes? They look so big when they swim past you, but when they swim away you realize how thin their body is, with eyes on both of their sides. They can be dark with vertical darker stripes or a very light shade of gray and then you can barely see their stripes. Guess what? The dark ones need a shower!!! We've seen a couple of them at a cleaning station enjoying their rubbing while a wrasse was eating away the parasites. Yummy! 😀
If you would like to know more about the fish population at Sail Rock, watch our Fish ID video below here.
*We added fishes names to the best of our knowledge 😉