We spent some time in the Maldives in the last couple of years and here's our experience in two local islands.
Maafushi
The first time we were in Maafushi, a local island not far away from Malé, the capital city of the Maldives.
We landed in Malé on a Friday afternoon, took the airport ferry to the capital and a taxi to our previously booked hotel, knowing that we had to wait for the local ferry to Maafushi until Saturday afternoon.
Read our post on how to organise a Budget holiday to the Maldives to know more about the logistics.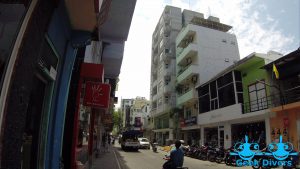 Malé was hot and crowded but we found a very good choice of restaurants to compensate the fact that the beginning of our holiday was not as relaxing as expected. On Saturday morning we walked to Vilingili Ferry Terminal to buy our tickets to Maafushi (if I remember correctly, we spent around $3 for both) and then back to our hotel to collect our bags. The ferry was on time and pretty full, but there was still enough room for all the passengers. We were the only foreigners there and Maldivian kids were staring at us with a cheeky smile 😉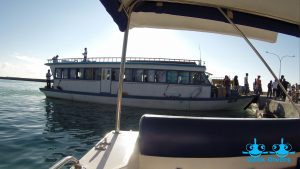 At the pier in Maafushi we found a couple of guys from the guesthouse that I had reserved waiting for us. They put our luggage on a cart and took us to the reception…on the best spot of the island! Wow! We spent $70 per night for our double room with A/C and private bathroom directly on the beach. Breakfast was included, as well as a complimentary dolphin show 50 meters off the beach. There were at least 20-25 dolphins happily jumping out of the water right there, while we were enjoying the view after a day diving. Magic!
The guesthouse, being on the very last and gorgeous beach on the island, offered the bikini option and the possibility to use sun beds, umbrellas and little wooden tables. The bikini beach was right next door and surrounded by a fence made of palm leaves. A fruit cart was there every day, offering juicy local fruit.
Maafushi is a busy local island: it has several options in terms of accommodation, dining and diving. You can walk pretty much everywhere on sandy roads and reach your destination in a few minutes. Jörg ditched his shoes as soon as we got there and walked barefoot for 2 weeks! 🙂
There are a few scooters driving around and I think we've seen one car in 2 weeks. Convenience stores, mini-markets and souvenir shops dot the island, however if you're looking for a specific brand of shower gel or sunscreen, be aware that you might not find it and if you do, it will probably cost 2-3 times more than at home.
Diving was awesome! 🙂 We had originally planned to do a couple of days diving and then take a day off to relax on the beach but once we were there we became addicted to the beauty of the underwater world and we went diving every day, 2-3 times a day. The guys at the dive center were fantastic: a perfect mix of Maldivian and foreign instructors and divemasters who made everybody feel safe and taken care of. And oh, the fun! 🙂 You could just pop in for a quick chat or a very interesting conversation at any time of day. You could be sure that there was somebody telling a joke or preparing a prank for someone else!
For non-divers – I know, there are still some people out there who're missing out! – there are several options of water sport from kite surfing to jet-ski, from kayak to fly boarding and more. You won't get bored!
As it was our first time on a local island, we had a lot to learn before knowing the best tricks to save time and money. Once we were there we learnt that we could have reached the island with a speedboat on the same day that we landed in Malé, even if it was Friday. That's why I would recommend to contact the dive center of your choice before you book anything else. They know how to get you there, where you can crash and how to make you experience the best underwater spots in the area.
At the end of our blissful two weeks we went back to the airport with a speedboat for only $30 per person and it took only 30 minutes.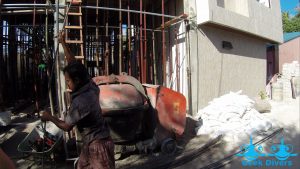 The second time that we went there, a year later, the island had changed a lot and we probably chose the worst moment to be there as there were several new building sites – yes, it was quite noisy – and the weather was a bit stormy, but the diving was still awesome!
Read more about it in our post How we ended up doing our Divemaster by chance (or more or less!)
We'll definitely go back to Maafushi at one point. Have you ever been there?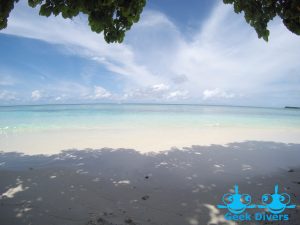 Vaavu Thinadhoo
Last year we decided to bring our families to the Maldives because we couldn't just talk about the beautiful white sandy beaches, the wonderfully warm and clear ocean water, the crazy amount of marine life that you can see just snorkeling a few meters away from the shore and how nice the people are there: we had to let them experience the whole package!
First we needed to make sure that everybody had a valid passport and since Jörg's family had never been out of Europe, they needed to request it.
We also went shopping for snorkeling equipment for everybody: none of us had already been in Thinadhoo so we didn't really know what to expect and we wanted to be sure that we had what we needed to check out the house reef.
At that point I could book the international flights from Dusseldorf to Malé. My parents were already going to fly from Milan to Dusseldorf a couple of days before, so that we could all travel together.
We went to the airport with 2 cars full of regular suitcases, our diving bags and 7 people. We could all feel the excitement! 🙂
Our flight had a layover in Dubai and it was amusing to see the experience through our parents' eyes. The airport is a major international hub and the size of it reflects that. While we were walking from our arrival to our departure gate, we realised that we had to take a train ride and Jörg's dad thought that we were pulling his leg! 😀 He couldn't believe that the airport had an internal rail service to get the passengers from one terminal to the other.
Once in Malé, we had to wait a couple of hours at the airport before taking our speedboat to the island. This was organised by the guesthouse staff who took very good care of us. The ride was a bit bumpy and we were all tired but we were all in Thinadhoo safe and sound one hour later.
The island is much smaller than Maafushi, 630 x 200 m, I know, right? 😀 We could walk everywhere in less than 15 minutes!
There are only a couple of guesthouses and dining options that make Thinadhoo look more like a tiny village in comparison to Maafushi, however everything that we had was delicious and since most of the times we were having lunch or dinner on the beach, we had a picture perfect view.
We couldn't have the compulsive diving that we had in Maafushi because we wanted to spend some time with our families. The few dives that we did were awesome. You can check out our shark video on our YouTube Channel or below here.