Probably most of you think that the word "budget" can never be associated to the Maldives. You might be right if you think of a 5* resort with water villas and your private butler.
But…
…what if you could spend around 70$ per night for a double room, breakfast included?
Guess I have your attention now 🙂
In 2009 a change to the Maldivian law allowed tourists to stay in local island instead of only in privately owned resorts. Locals started to create their hospitality businesses and soon after that tourists chose to try the "Maldivian experience".
Today there are several options for travelers who want to enjoy their time in the Maldives, from very affordable to pricey. In this post I'm only going to describe our experience in local islands and therefore on the lower end of the budget.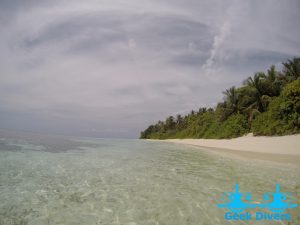 Before you get there
I would recommend to make your reservations before you land in Male because, depending on your destination, the guest house might be able to either send somebody to welcome you at the airport and take you to a speedboat or seaplane or at least they can give you directions to get there.
Accommodation is not hard to find. You can browse through the most popular accommodation booking websites (sort them by price from low to high), read the guests reviews or check websites like Guesthouses Maldives or the Maldivian Ministry of Tourism. I usually select 3 places that I like and match our budget and contact them directly to inquire about availability, prices and transfer. I've always received very nice and friendly answers to my emails. Another option is to find out which local island you would like to visit (just a little Google research will give you all the info that you need or continue reading for more on this), locate the dive centers on the island, choose the dive center that seems the most reliable and trustworthy to you and send them a message to see if they can help you find an accommodation. The islands are small and there's a very high chance that not only they can help you select a good option for you and your wallet, but they might offer special discounts on accommodation for their customers.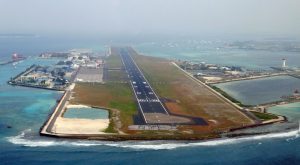 Getting there
Depending on where you start your journey, you might get a direct flight or you might need to have a layover in a major airport hub. We were travelling from Germany, so in our case we had a layover in Dubai or in Abu Dhabi. Your final destination in any case is Malé (IATA code: MLE), the capital city of the Maldives. Malé is a busy and crowded city on one of the 1200 islands and unless you were willing to deal with insane traffic in one of the most densely populated capital cities of the world, I would skip the experience. The airport however is on another island, Hulhulé Island or Airport Island, as everybody calls it. In case you plan to visit the capital, Hulhulé Island is connected to the capital by a local ferry every 10 to 30 minutes, depending on the time of day or night. It only takes 10 minutes to get to Malé from the airport.
Before you book your flight, you might want to keep in mind some special considerations. In the Maldives the vast majority of the population is Muslim, therefore  you can expect that public offices, schools and even local shops might be closed on Fridays, as people will spend their time at the mosque. This affects public transportation as well, so in case your flight lands in Malé on a Friday and you're planning to use the local ferries to get to your destination island, you will have to spend the night at an hotel in Malé or in Hulhumalé, the artificial island right behind the airport and take the ferry on Saturday or one of the next days. The airport ferry runs on Fridays but only from 6am to midnight.
Local ferry, speedboat or seaplane?
That's a very good question… 🙂 The local ferry (routes here) is very cheap, from $1.50 to just a handful of US dollars, depending on how far you want to go, and very slow. If time is not an issue, you can start your "Maldivian experience" with the ferry. You can think of the ferries in the Maldives as the equivalent of trains or buses to travel from one city to another in your home country and they are meant for Maldivian people to travel from local island to local island. They have a little bar with snacks and drinks and restrooms, so all in all not too bad. The ferry routes and the stops can give you an idea of which local islands you might want to visit. Bear in mind that most of the ferries do not have a daily service – most of them run 2-3 days per week – and in my knowledge there are no ferries on Fridays.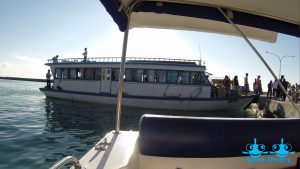 The ferries leave Malé from Vilingili Ferry Terminal, on the South-West side of Malé. To get there you need to take the airport ferry from the airport island to Hulhumale' Ferry Terminal and then either walk or take a cab to the opposite side of Malé. There are buses that can take you from one ferry terminal to the other (bus 401 and 403), but we've never used them, so I cannot give you my honest opinion. You can buy your ferry ticket directly at Vilingili terminal and I would recommend to be there at least 30-45 minutes before the ferry scheduled departure, as the boat leaves on time and once it's full you might need to wait for the next one, which could be 2 days later.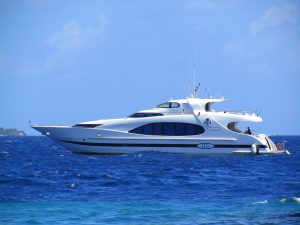 If you choose to take a speedboat you can arrange your transfer with the dive center or the guesthouse. Alternatively you can check here the available routes and prices. Speedboats are generally five times faster than the local ferries, more expensive and they usually run 3-4 times per day, including Fridays. The other advantage is that they might pick you up directly at the airport island, so you just need to walk out of the arrivals hall and cross the road to get to the speedboat pier. Before you book your flight to Malé, remember to check the speedboat schedule and make sure that your flight lands at least 1 hour before the speedboat departure time, even if I would recommend to allow 1.5-2 hours. Speedboat transfers can be a bit bumpy: if you think you might be seasick, remember to bring your anti-seasickness tablets and take one at least one hour before boarding the speedboat.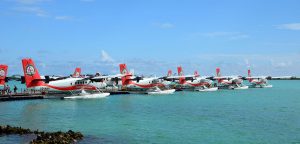 If you decide to go to the North or Upper North Province or to the South provinces, you might want to consider a seaplane or a domestic flight. Not only flying would give you a fantastic aerial view of the Maldivian islands, but it would take you to your destination in a very short time. Drawbacks: limited checked in luggage (20-23 Kg per person) and costs ($200-400 for a return flight). If this is your choice of transportation, I would recommend you to arrange it with your guesthouse or dive center as they can give you all the information you need. If you're travelling with your dive equipment, you might need to pay for excess luggage and expect to receive your bag the following day.
In any case, transfers from the capital to any of the islands are subjected to weather conditions. In case of storms it's very unlikely that you can reach your destination on the same day.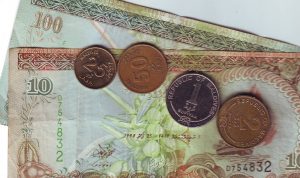 Money
Going to a local island means that you will need to have some local currency, the Maldivian Rufiyaa, and there might not be an ATM on local islands (ask your guesthouse or dive center). There's an ATM at Malé airport (after baggage claim, go to the arrival hall and take a turn right). Your guesthouse and dive center might accept Euros or US Dollars and the major credit cards (again, remember to ask them before you get there), but the local shops usually accept only US Dollars in very small bills (max $20) or Maldivian Rufiyaa. In general they will give you change in Rufiyaa.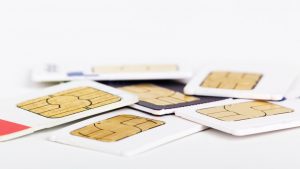 Communications
Your guesthouse and dive center might offer free Wi-Fi to all their guests and even if in the past few years the data speed has improved a lot throughout the country, if you need to be online 24/7 you might want to buy a sim card with a data plan at the airport. At Malé airport, after baggage claim, turn right and you'll find two phone shops one next to the other: Ooredoo and Dhiraagu. They both offer similar data plans with a prepaid sim card. You need to have an unlocked smartphone with you and they can set it up for you. If you don't know which one to choose, ask your dive center which one has the best coverage on the island.
What to expect on a local island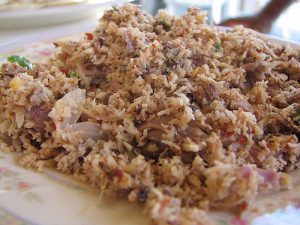 Food
A local island is not a private resort, so don't expect fancy swimming pools or an all-inclusive package for food and drinks. Guesthouses usually offer private rooms with en suite bathroom, with or without A/C, with or without sea view and prices vary from $35-40 to $140 per room per night. Some of them offer continental breakfast or Maldivian breakfast with roshi and mas huni.  Lunch and dinner might be offered at additional costs in the same guesthouse or you can walk around the island and choose a café or a restaurant. Depending on the popularity of the island, you might find just a few or a lot of different dining options, but remember that the islands are very small in the Maldives, so don't expect to find more than 10-15 restaurants in a very busy island. As an average we spent $20 per person per day for food and drinks. On the beach you might find a fruit cart where you can get a tray of mixed fruit and fresh coconut juice.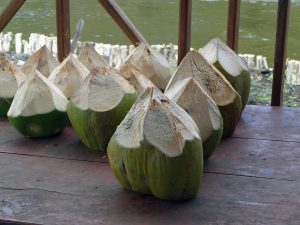 Drinks
Water and soft drinks can be easily found in your guesthouse or in the little convenience stores. Alcohol is forbidden. Yes, that's right. If you want to have a beer you can find the alcohol-free version in most places, but the real ones are not allowed on local islands. However if you ask the locals they'll be able to tell you how to get to a boat right off the coast every evening to enjoy your drink.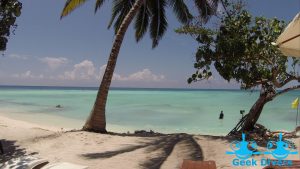 Dress code
Maldivian people live on local islands, they work in dive centers, guesthouses, restaurants, shops, schools…etc. As I wrote before, the majority of them is Muslim, so you will see a lot of women walking around with their hijab and fully clothed. Tourists are allowed to wear shorts and t-shirts, but please be respectful of their culture and don't walk around half-naked. As far as I know, in every local island that has at least one guesthouse there's a bikini beach. It can be very close to the guesthouses area and surrounded by a wooden fence or a bit further away in a secluded area where the locals cannot see tourists wearing bikinis. If you decide to go to a non-bikini beach you need to remember that you need to keep your clothes on, even if you want to go and take a swim in the ocean. Also, be respectful of their culture and do not wear any religious symbol.
Language
Locals speak Dhivehi and English with various degrees of proficiency. In guesthouses and dive centers you will definitely find somebody speaking English at a very good level. In case you are thinking about a dive course and you would prefer to do it in your native language, you need to ask the dive center if they have a foreign instructor. In most cases they do and they will be happy to accommodate your request.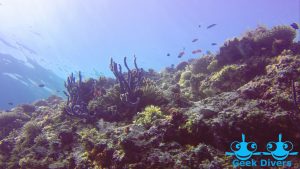 Diving
In one word? Awesome! 😀 Some islands have beautiful house reefs with very mild to no currents, fantastic colours and a lot of marine life. Dive centers have their dhoni (a maldivian handcrafted wooden boat) or a speedboat to take you to the most beautiful dive sites in the area. Some dive sites are not suitable for inexperienced or open water certified divers as they are deep and currents might be moderate to strong. Channel crossings are an example. This is where two islands meet underwater at around 30-35 m and big pelagics swim in circle, waiting for their lunch. For this kind of dives I would recommend to bring your reef hook, so that you can maintain your position at the bottom without being swept away by the current and enjoy the shark show. Just make sure that you don't harm any marine life when you use it. In general you need to know a thing or two about drift diving. If you don't, just ask the instructors and they will make sure that you're comfortable and safe during your dives. Because of the currents, you might want to bring your signaling devices (SMB, mirror and whistle). During one dive Jörg and I had to surface before the rest of the group (I'll write another post about it, promise!) and I was happy to have an SMB to get the attention of the boat captain who didn't expect anybody to be on the surface after such a short time. He could see us and picked us up in no time. The water is usually very warm: around 29-30°C, so theoretically you could go diving with your swimsuit or a rash guard. I'm very rarely cold underwater and I particularly hate donning a wetsuit (who doesn't? 😉 ) so I usually wear a long-sleeved rash guard and fitness leggings that protect my whole body from scratches, especially during channel crossing dives. If you are certified to go deeper than 18 m, please consider bringing your Nitrox card or do the course so that you can enjoy a couple more minutes of bottom time when you are at 30 m and you are mesmerised by all the sharks swimming in front of you. 😉 Believe me, you want to delay your ascent as much as possible! Depending on which atoll you choose to go to and the time of year, you can see different kinds of marine life. To name a few: reef sharks, nurse sharks, eagle rays, mantas, whale sharks. Plus all the critters that usually live in coral reefs, including giant mooray eels, turtles, shrimps, frog fishes, sea stars and many more.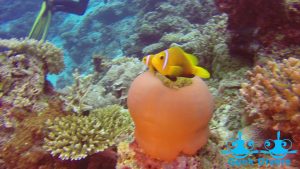 In a privately owned resort, where there's usually only one dive center, one dive can cost between $75 and $120. On a local island you might find more than one dive center and because of the competition the dives are cheaper. You can spend as little as $30 per dive (excluding equipment rental or extra charges) if you do at least 10 dives. Do not forget to tip your instructor, your dive guide or just leave a tip for the staff and they will share it with the boat crew and the tank boys as well.
Stay safe and enjoy your bubbles! 🙂