2016 was the year of big changes for us. We quit our corporate jobs, gave our 3-month notice and organised the handover to our colleagues so that we didn't need to show up in the office for 2 of those 3 months. And we received our full salaries for the entire notice period. I know, a dream! 😀
As travelling and diving are two of our biggest passions, we decided to go away for at least 6 weeks. I booked a flight from Düsseldorf to Male and the return from Manila to Düsseldorf 6 weeks later. The plan was to spend 2 weeks in the Maldives, 2 weeks in Thaliand and 2 weeks in the Philippines.
But, as usual, plans change…
Before leaving Germany I had booked an accommodation in Maafushi in the same place where we'd been the year before but when we got there the best spots of the island were taken over by scrapers and trucks, new guest houses were being built and the whole experience was not exactly pleasant: it was actually very noisy. We were not going to spend 2 weeks there, no way!
I immediately changed our reservations for the flight from Male to Bangkok and we left the Maldives after only 4 days from our arrival.
I thought that I could have 2 full weeks to organise our stay in Thailand, from choosing the place to the travel arrangements to get there, but no, everything had to be rushed in those 4 days in Maafushi. Google was my best friend! It was May and I found out that the Gulf of Thailand was the best place to go during that time of year due to weather conditions and since we wanted to enjoy some diving there, Koh Samui, Koh Phangan or Koh Tao were going to be our destination. I immediately booked a flight from Bangkok to Koh Samui for the two of us. Ok, at least this was done!
Then I started emailing some dive centers in Koh Samui and since I didn't receive any answer within 24 hours, I sent a message to a dive center in Koh Phangan. Within half an hour I received a message with all the answers to my questions and that was it for me! 🙂
I had already thought about the Divemaster course (I've been a Rescue diver since November 2013), but working a full-time job means that having 3 or more weeks holiday to travel somewhere and do the course was very unlikely and I wanted to do it together with Jörg, which means matching (long) holidays. It was nearly impossible.  After quitting our jobs, having 2 full months off travelling in Asia was somehow the solution.
We ended up in Chaloklum, a tiny fishing village in the north of Koh Phangan, a very quiet area in the thick Thai jungle. Sail Rock Divers welcomed us to their dive resort and gave us one of their best bungalows. Our neighbours were monitor lizards swimming in the little canal that flows through coconut palm trees (see our video above here), tropical birds, huge and colorful butterflies and tons of geckos. These last little guys were our favourite as they would hang out on our porch and eat away all the mosquitoes. Bless them! 😀 And I know that all this is pretty ordinary in the jungle, but I'm a city girl and it was all new to me. And hot! Oh dear, very hot and humid! So hot that our t-shirts were permanently wet. Ugh!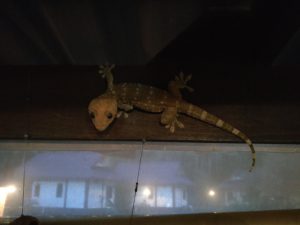 But hey, we were there for diving so being wet was our plan anyway! 😀
We started off with Jörg's upgrade to a Rescue Diver and we both did an EFR course (I needed a refresh anyway) and then we were ready to start our Divemaster. We had 3 weeks of muscle pain (sitting in the office every day for 9-10 hours per day didn't really help our fitness level), lots of evenings spent studying, dozens of hours in the pool and underwater at Sail Rock and so much fun! But hey, we made it! 🙂 We left Thailand with our Divemaster certification, new friends, more experience underwater and the feeling that even if we're not 20 anymore we could still achieve our goals. Not bad, uh? 😉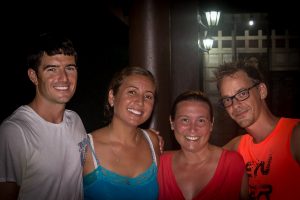 By the way, we came back to Chaloklum and Sail Rock Divers this year and we're still here. More on this story soon, promise!